SILVER UNDERSHEETS AND SLEEP SETS

We have the best earthingsheets! Improve your sleep and your health by sleeping on the best available earthing sheet today: new Silver Undersheet with 50% silver thread!

We give a 2 years warranty on the conductivity of our silver earthingsheets when you follow the care instructions!

We have 5 sizes: 100 cm wide with 100% cotton ends to tuck under the mattress to secure it in place (universal silver undersheet) and a 90 cm wide fittes sheet for a single bed
and 140cm, 160cm and 180cm wide (fitted sheets) for a bigger mattress
Because of the high amount of high quality silver thread (15 - 30 times more!) the Silver Undersheet can be put under your own fitted sheet. You are at least as well grounded as when you lie directly on a traditional earthing sheet (with only 3- 5% silver thread).
It also has a stronger antibacterial activity and a much better longevity!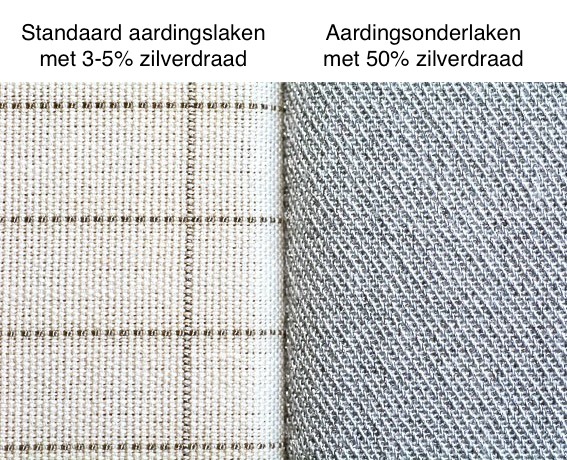 Sleeping grounded reduces stress in the body, improves blood circulation, reduces chronic inflammation and improves sleep, to feel better and look better.

Made from 50% of the finest French made silverthread and 50% tencel, produced in Austria from sustainably grown eucalyptus, they are extremely durable and long lasting. Tencel is one of the most environmentally friendly materials available.
We have made no compromises regarding quality and guarantee our silver undersheets for 2 years.​

See the page SLEEPING ON SILVER for the differences with traditional earthing sheets.